So already this year we've had Ripper Street being brought back thanks to Amazon, Heroes getting a reboot with Heroes:Reborn, 24 making a comeback and we can't forget the Veronica Mars movie which is out very soon! But we all have those shows that we wish had never been cancelled and those that the networks failed to take notice of fan based petitions, and here are a few of my favourites.
WARNING! SPOILERS BELOW!
---
Ringer (2011)
I don't know how many of you saw this one, but it starred Sarah Michelle Gellar among others (including Mr Fantastic himself - Ioan Gruffudd). Sarah played the part of two twin sisters, one, Bridget, who had predictably gotten in with the wrong crowd and the other, Siobhan, who was a billionaire's wife. In the beginning, we see Bridget has witnessed a murder and is on the run to avoid testifying against a very dangerous man, who in fact is her own boss at the strip club where she works. She goes to Siobhan for help who takes her out on a boat ride and ends up faking her death (unbeknownst to Bridget). Bridget then assumes the place of Siobhan, fooling everyone in her family who never actually knew about her. The series moves forward with the viewers seeing Siobhan's affair as well as Bridget's struggle to keep her own secrets. Then we find out that someone was trying to kill Siobhan, who now is obviously after Bridget.
The series ended with Bridget finally, after 22 gruelling episodes finding out that her sister is in fact alive. Talk about a cliffhanger! The series was then cancelled and never to be heard from again. I do agree that if this TV show wasn't watched from the beginning it definitely would have been very hard to follow and maybe this reason was also why ratings continued to drop throughout the first season. Either way, it was a great show and it had a potentially great storyline that I'd just want maybe one or two more episodes of, just to find out what happened after Bridget saw Siobhan was alive.
---
Moonlight (2007)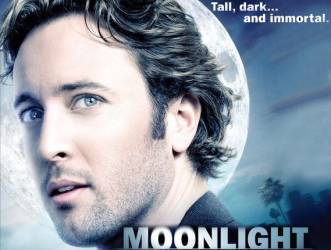 Moonlight was a TV show that followed a private detective - Mick St. John, played by Hawaii Five-0's Alex O'loughlin. Mick, as well as being a private eye, is also a vampire turned by his bride 55 years earlier. Of course, Mick is a bit of a cliché vampire main character, who didn't hurt anyone innocent and who struggled with his vampire urges and his attraction to mortal woman, Beth Turner.
The series, as you can guess is your typical crime drama with each episode showing Mick solving a new crime, but at the same time following his own story of his past and the sexual tension between himself and Beth.
It ends with another typical cliché scene of Mick finally telling Beth that he loves her and then ended with a kiss between the pair. The show was supposedly looking to be renewed for season two, but as of May 2008 CBS revealed that they had in fact cancelled it, and depsite various attempts to sell the show to another network, it unfortunately was dead in the water.
Despite some of it's clichéd storylines, this was a supernatural crime drama a little similar to that of NBC's Grimm (which is an awesome show for those who havent seen it). Maybe it was just aired during the wrong time, and if aired a few years later during the huge vampire craze would have been picked up for more episodes, we will never know.
---
Deadwood (2004-2006)
Deadwood was an American Western based TV drama set during the 1870's in Dakota, before and after the area's annexation by the Dakota Territory. This show was pretty popular, spanning three 12 episode seasons and had a pretty big well known cast, including Ian Mcshane, Timothy Olyphant and Breaking Bad's very own Anna Gunn.
The series follows storylines involving many real-life people including Wild Bill and Al Swearengen and contains many facts and historical truths as well fiction. The writers actually used diaires and newspapers from 1870's Deadwood residents to get the general look and feel of the show and it's characters. Each 12 episode season spans a time of around two weeks, with each episode representing a day in Deadwood. It all seems very realistic and the cast work brilliantly together, it's one of those shows you get really drawn into.
Despite it's popularity, HBO had decided to not pick up the cast for a fourth season, and was subsequently cancelled. There was a possibility of two TV movies being produced, but in an interview in 2012, the main writer said it was unlikely it would ever happen. If you're in the mood for a good old fashioned American Western and don't get offended by a lot of swearing and profanity, this is a show perfect to pass a few days.
---
Firefly (2002)

Ah a cult favourite. Anyone who was a Joss Whedon or Sci-Fi fan loved this show and like me were outraged when it was cancelled after only one season.
For those of you who were living under a rock in 2002, the short lived TV series is set in 2517 after humans have entered a new star-system. It follows 9 people who live on a 'firefly-class' ship called Serenity who fought on the losing side during a civil war. In 2517, the only surviving superpowers are China and the United States, who have formed together to form a central federal government called the Alliance. We see the main characters travelling between planets doing jobs, any jobs legal or illegal to survive and as you can guess are constantly in trouble.
The show is one of my all-time favourites and the actors are all amazingly talented. Despite getting an average of 4.7 million viewers per episode, the show was cancelled due to being too expensive for the numbers it was drawing in. After no chance of a second season, Whedon then decided to sell the idea as a film which was signed by Universal Studios immediately. Although we did get an ending and it didn't just finish abruptly like many other one season series, every Firefly fan everywhere will always be sad that this show wasn't given another chance to make it. We always want more!
---
So there's my favourite shows that should never have been cancelled, but that's just a few of so so many that unfortunately didn't make the cut. Maybe one day though, you should never say never!
What are some of your favourite cancelled shows you wish would be resurrected for a second chance? Give us your opinions and we'll edit them into an honourable mentions section!